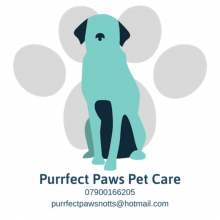 Description
An award-winning pet care company based in Linby, Nottinghamshire offering a variety of tail-ored services from adventure dog walking to exotic pet boarding.
We provide our services in Hucknall, Linby, Papplewick, Annesley, Newstead, and surrounding areas, and always aim to greet our clients plus their furry (or not so furry) friends with a smile!
Our pet care specialists are reliable, experienced individuals who host a wide variety of qualifications in various aspects of animal care.
All of our carers are advanced DBS checked, Canine First Aid certificated, fully insured, and qualified at a minimum of Level 2 Animal Care.
Our aim as a business is to provide you with piece of mind that your furry family members are well cared for when you cannot be there; by prioritizing your pets safety, well-being, and of course happiness, whilst spending time with us!
We strive to put in place packages that are best suited to your pets needs, for an affordable price to keep not only our client's animal friends happy- but our clients too.
purrfectpawspetcare.co.uk
facebook.com/purrfectpawsnotts
instagram.com/purrfectpawsnotts
Experience
The owner of Purrfect Paws Pet Care, Ellie, established the business in 2016 with a vision of providing nothing short of the best care for other's pets when they cannot be there. Prior to this, Ellie has worked in a variety of animal based jobs- from kennels to livery yards to aquatic stores to exotic pet shops; as well as volunteering for local charities that work with animal welfare.
Ellie has worked towards a large animal-based portfolio over the years, and now is the holder of many qualifications- whilst still working towards others. She prides herself in taking into account all aspects of the animal's life, biological make-up, psychology, environment etc. into how to best provide the care required.
Qualifications & Training
I, Ellie, am the holder of the following qualifications:
>Advanced Canine First Aid
>Feline First Aid
>Small Pet First Aid
>Equine First Aid
>Animal Science Level 2
>Animal Science Level 3
>Animal Care Level 2
>Animal Care Level 3
>Animal Management and Welfare Level 3
>Animal Management and Welfare Level 4
>Animal Training and Pet Sitting
>Pet Nutrition Level 4
>Animal Psychology Level 4
>Animal Welfare Diploma
>Livestock Management Level 3
>Canine Leash Training
>Puppy Care and Training
>Exotic Animal Care
>Small Animal Care and CPR
>Pet Sitting and Dog Walking Diploma
>Canine Socialization and Obedience
Purrfect Paws Pet Care also were the 2018 winners of the LUX Best Pet Care Service Provider in Nottinghamshire!